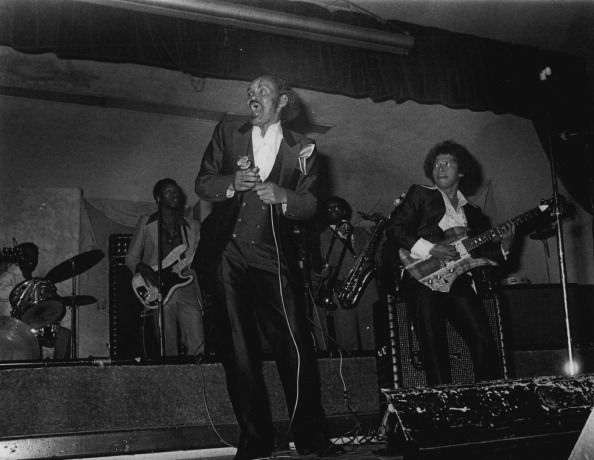 Percy Mayfield - Please Send Me Someone to Love
Before there was Rock & Roll, there was Percy Mayfield, singing and writing blues songs as well as others that helped open the door for rock, covered by artists such as Ray Charles and Elvis Presley. Decades after Mayfield's death in 1984, many of his songs from over 60 years ago are still known and covered. 
Mayfield was born in August 1920 in Minden, Louisiana. As a child, despite being raised and belonging to a Methodist church, he sang in the St. James Baptist choir. At school he developed a reputation for his writing prowess. But after his mother died in 1932 when he was twelve, he left his home on a farm and took freight trains to various cities, finding work shining shoes and selling newspapers. 
By 1942 he was living in Los Angeles, working as a cab driver and pressing clothes, and resumed his songwriting aspirations. In L.A. he joined Al-Mus-Art, a volunteer group of musicians, where the director of talent encouraged him to pursue his songwriting ability. He took some songs to Supreme Records, where the owner told Mayfield he would accept the songs only if Mayfield agreed to sing. 
In a recorded interview with Barry Hansen from May 3, 1969, (one of very few that exist with Mayfield), he describes this turning point by stating that other than the choir, he had never sang in public before his first record, nor did he have any desire to sing: "I didn't decide to be a singer," he says, "It was forced on me." 
The outcome of the Supreme recordings: Mayfield's song "Two Years of Torture" earned him enough recognition to attract the well-known label Specialty Records. It was with Specialty where Mayfield's first single "Please Send Me Someone to Love", recorded in August 1950, became his first big hit, peaking at #26 on the US Billboard 100 chart and #1 on the US Hot R&B chart. 
"I wrote 'Please Send Me Someone To Love' as a prayer for peace disguised by a blues melody," Mayfield later told Living Blues in 1984. "I didn't look at the song as being an awkward thing. I put a melody to it in order to reach the masses." 
It did reach the masses, and has been revisited over the decades as a social plea, covered by dozens of artists from Dinah Washington in 1961 to Sade in 1993 (and of course, Jukebox Storm in 2020), including legends such as B.B. King (& Gladys Knight), T-Bone Walker, Peggy Lee, and John Oates. 
Mayfield followed that single with a series of other hits, but his career was disrupted in August 1952 by a car accident. Driving Mayfield back home to L.A. from Las Vegas, Mayfield's valet Shep Ealy – presumably accommodating Mayfield's preference to drive fast – accidentally drove the car into a truck, flipping the car over. After a month in the hospital, Mayfield's voice had changed and one side of his forehead had been left permanently damaged. He continued performing for a while, but mostly writing, delivering hits for Ray Charles among other artists. 
In yet another August milestone in Mayfield's life, he died in August 1984 of a heart attack. Little Richard played at his funeral. 
"I love people," Mayfield declared in the 1969 interview with Hansen, "Music let me see people, new faces, new places." 
References:
JazzBluesNews has about a detailed Percy Mayfield biography as you will find called "Percy Mayfield: The poet of the Blues" which to an extent summarizes the documentary produced by Starr Sutherland: "Percy Mayfield: 'Poet Laureate of the Blues'" 
http://jazzbluesnews.com/2018/08/12/percy-mayfield-the-poet-of-the-blues-video/ 
One of the few recorded interviews you will find is available via Past Daily under "A Few Words From Percy Mayfield – 1969 – Past Daily Pop Chronicles" and includes an impromptu, informal exchange with legendary DJ Barry Hansen, a.k.a. "Doctor Demento": 
https://pastdaily.com/2014/07/19/words-percy-mayfield-1969-past-daily-pop-chronicles/ 
The longtime blues publication "Living Blues" also has a commonly cited issue from 1984.